Samoa Vacations, Honeymoon Packages and Romantic Getaways
Talofa! Welcome to Beautiful Samoa!

A vacation to beautiful Samoa is all about being immersed in an amazing experience. It's safe, secluded and has a very strong and present culture. Americans will love how far their dollar goes in Samoa. Without the crowds of other Polynesian destinations, a vacation to Samoa is truly tranquil and relaxing, surrounded by colorful tropical jungles, white sand beaches and clear blue waters.
It's a place not many Americans get the chance to experience but those who do, understand why the standard greeting in Samoa is a warm sing-song "Talofa!" and a smile – because being in Samoa makes people happy!
Samoa is more than a great place to meet friendly people and relax on the beach. Samoa's islands are filled with amazing natural wonders begging to be explored. With an endless array of activities to choose from, Samoa is an adventurer's dream.
The easiest and most cost effective way to get to Samoa from the USA is to fly through Nadi, Fiji. Which is why many of our clients couple their Samoa vacation with a stay in Fiji. Both countries are tropical paradises, but you'll find the cultures, climates and sights to be quite distinct. Check out a few of our sample itineraries below.
Things to Do on The Islands of Samoa

Traditional villages, alluring white sand beaches and blue lagoons are the norm in Upolu, but you won't want to overlook the island's lush mountainous and dramatic interior. A vacation to Samoa usually means a stay on the island of Upolu.
Upolu is the most populated of Samoa's two main islands and home to the capital city of Apia, with the international airport on the west coast of the island. Upolu boasts a well-maintained network of roads, making sightseeing easy for visitors.
Keep in mind, most sights are located on the land of local villages and will require a cash entry fee.  This fee is normally about 5 tala (about $2 USD) but can be as much as 20 tala (about $8 USD) and helps the village maintain the site.
Things to see in Upolu:
Waterfalls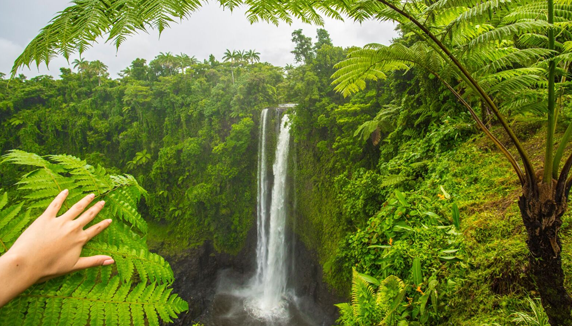 Your Samoan vacation will be filled with amazing waterfalls! Waterfalls are scattered all around Upolu.
Papapapaitai Fall, (aka Tivavi Falls) is a spectacular 100m waterfall that plunges into a dramatic gorge.
The cascading Togitogiga Falls are separated by swimming holes and make an ideal spot for a picnic.
On Le Mafa Pass Road, a beautiful garden and picnic site overlook the powerful Sopoaga Falls.
Fauipisa Falls is a spectacular 180 foot high jungle waterfall, situated off the pass road in the village of Lotofaga. It's a great place for bird watching and relaxing on the cliff tops.
Swimming Holes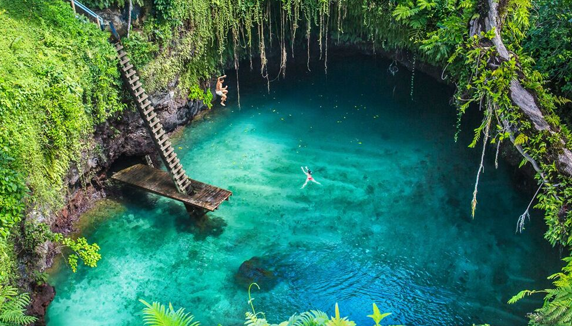 While you'll take many amazing photos on your Samoa vacation, the most photogenic site on the island might just be the To Sua Ocean Trench. This idyllic natural swimming spot can be found on the south coast road near the village of Lotofagu. You'll see two magnificent deep trenches, covered in greenery and flowers, and filled with clear blue sea water. As the ocean pushes water through the lava tubes, the swimming hole deepens with the tides. The brave are invited to climb down the steep ladder into the trench for a refreshing swim. During high-tide, it is possible to do a cliff jump. Lay back and float on the surface as the pounding waves outside the cave translates into a gentle rocking sensation. The tidal current carries you to and fro as you look up at the sky and massive cave walls – a very relaxing experience. Or swim into the darkness and find the other trench through a cave opening. After your swim take a walk around the lovely gardens and head down to the beach to view some blowholes.
Enjoy sliding down the Papase'ea Sliding Rocks with a yelp and a giggle. The main attraction is a 16 foot natural water-slide down a waterfall into a deep freshwater pool.
When it's hot in Samoa, the best place to take a refreshing dip is the Piula Cave Pool. This cool, natural freshwater spring is located just after Saoluafata through the gates of Piula Theological College. Looking for some luxury on your cave pool visit? Try one of our favorite tours where a chef will take you to the local market to pick out fresh ingredients. Then, he'll take you to the Cave Pool (or another site of your choice) where you can swim and explore while he makes you a delicious meal for a hot picnic lunch by the beach.
Jungles, Mangroves and Wilderness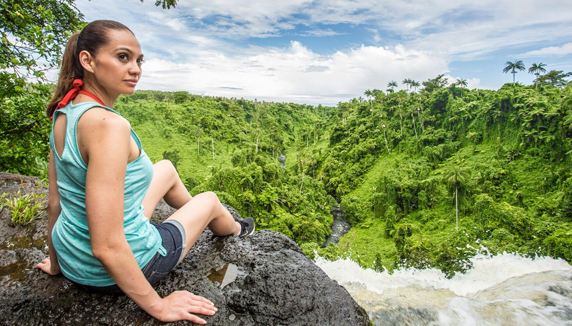 Uafato Conservation Area is a wild part of Upolu in the northeast with some of the island's most lovely scenery. It's home to several native bat and bird populations, including the rare tooth-billed pigeon.
On the south coast, you'll find vital coastal mangrove forests around Saanapu and Sataoa villages. Both villages offer a guided canoe tour of the local forest.
Behind the hospital at Lalomanu in the Aleipata district is the start of the Lalomanu Crater Walk to a long-extinct volcanic crater, home to a big population of flying foxes.
Swimming Beaches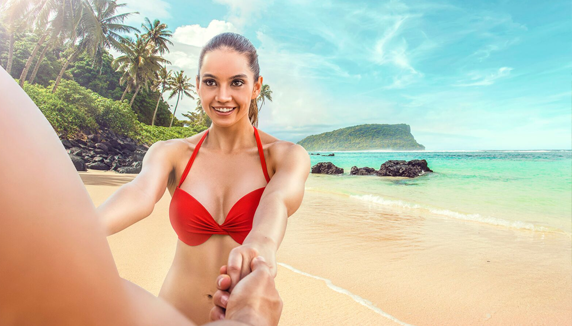 On the southeastern tip, you'll find one of Samoa's most pristine beaches, Lalomanu Beach. Lalomanu is a particular treat for those who love the creatures of the ocean. The translucent lagoon, all the way along the south coast to Lotofaga, is a protected marine reserve, teeming with a magnitude of tropical fish species.
Lovely palm-fringed beaches stretch down the south coast of Upolu. In the Lefaga district is the popular Return to Paradise Beach, made famous by the 1951 Gary Cooper film.
The deeper waters of Aganoa Black Sand Beach offer safe, sheltered swimming with the dark contrast of the fine black sand.
History and Culture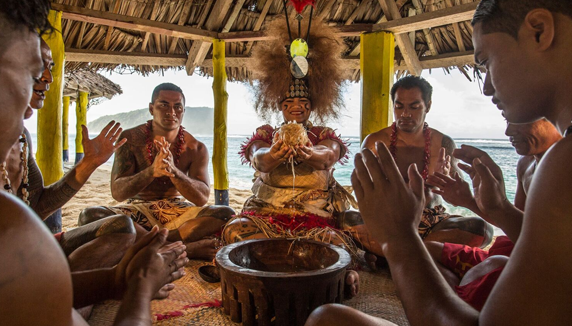 For a quick insight into Samoa's culture and traditions, visit the Samoa Cultural Village just behind the Information Fale in Apia. Cultural tours are held from 10:30am – 1:20pm Monday – Friday.
You'll find many amazing churches and places of worship in Samoa. Conception of Mary Cathedral in Apia is a must-see spot and makes for a beautiful picture. Make your way inside to see the highly skilled craftsmanship of the interiors and stained glass windows, created in the uniquely Samoan style. Or visit the Baha'i House of Worship, one of only eight in the world with amazing gardens.
The majestic and magnificent Robert Louis Stevenson Museum memorializes the place where this famous Scottish poet and author fell in love. The Museum is perfectly restored back to its glorious days with some of the Author's work and family memorabilia. Take a tour or hike through the jungle to Stevenson's final resting place.
A holiday in Samoa wouldn't be complete without a Fiafia Night. Its the celebration of Samoan culture with a traditional buffet and entertainment featuring songs, graceful dances and the spectacular fire knife dance! Most accommodations in Samoa offer Fiafia Night once a week.
On your Samoa vacation, you can explore on your own by renting a car or scooter, or ask your Destination Specialist about guided tours. We have some very unique offerings, including one for solo travelers who can take a private and customized guided tour around the island on the back of a motorcycle!
Savai'i is a paradise on Earth where you'll get a real insight into the traditional Samoan way of life. Time in Samoa runs slow, but in Savai'i it's even slower. Take a walk around a village to meet some locals (but avoid the evening prayer curfew between 6-7pm). They may be shy to speak English, but if you greet them with a warm "Talofa!", you might just make a new friend and learn more about the Samoan way, Fa'a Samoa!
Samoa's largest island is known for its pristine scenery and offers natural gems aplenty: lush rainforest teeming with bird-life, secluded white sand beaches, turquoise lagoons, lava fields, thundering waterfalls, archaeological sites, caves and spectacular blowholes.
A well-paved road encircles the island, making it easy to explore. Arrive in Salelologa, in the southeast on a ferry from Upolu. If you're heading out on a day trip, Salelologa is a great place to stop, rent a car and stock up on supplies before you head out to see the sights! We have a great tour where your traveling chef will help you pick out items he'll cook for you at one of the many amazing sights you'll visit while on Savai'i.
Things to Do in Savai'i:
Waterfalls and Water Holes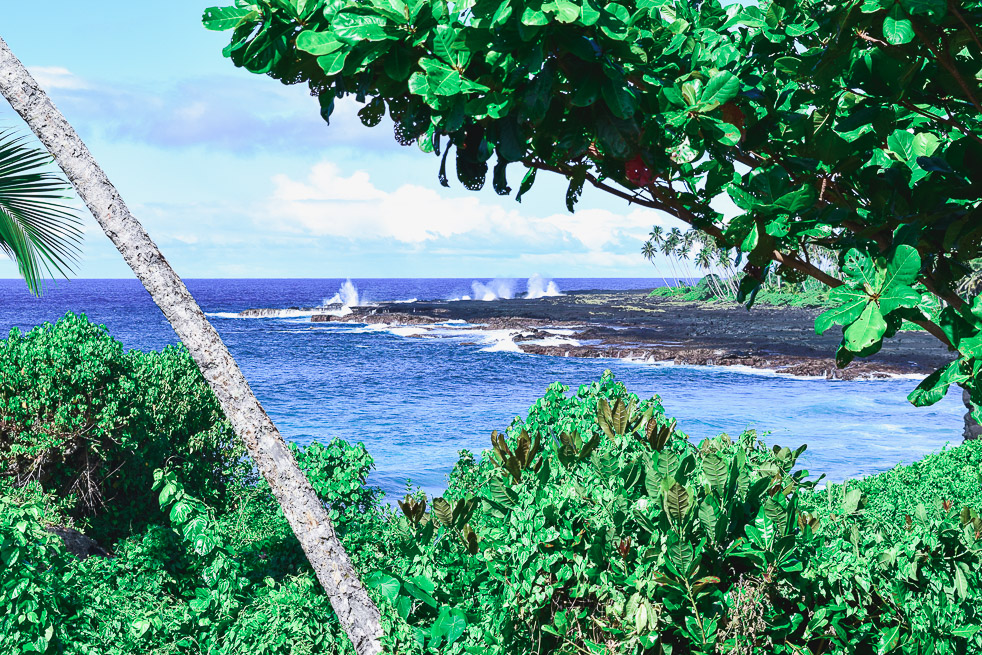 Savii's rugged interior hides many waterfalls but only one, Afu Aau, is accessible. It is undoubtedly one of the island's most idyllic and popular tourist destinations – but don't expect big crowds! A short drive along a rapidly flowing stream ends at a deep pool of crystal clear water fed by the 45 foot high waterfall and an underground spring. Swimming in the cool water is a highlight of a hard day's sightseeing. There is a small entry fee, payable to the village. A changing room is also available.
Along the southwest coast are the magnificent Alofaaga blowholes, just a short walk from the Taga village. As you drive down to the coast, you'll notice the water shooting skywards and cascading on black volcanic rock. While you'll think this is an amazing sight, it won't compare the the awe you'll feel as you stand next to the holes and feel their thunderous roar. Watch what happens when a local throws a coconut husk into the hole and the water shoots up 130 feet into the sky. A coastal track follows the rugged coast west for several hours to the ancient village of Fagaloa where you can bathe in a waterfall on the beach.
Views and Vistas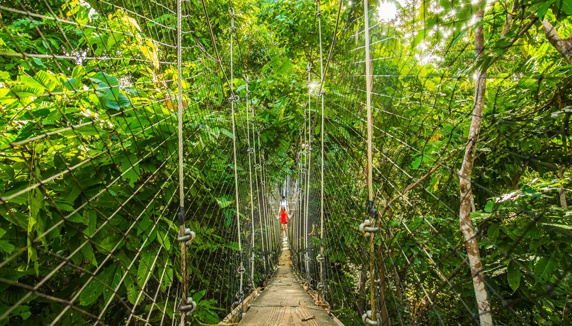 Enjoy the beautiful sunset at the village of Falealupo, home to Moso's footprint, an unusual lava crack said to be the footprint of the giant stepping from Fiji to Samoa. Nearby, the Canopy Walkway gives a brilliant view across the treetops. Legend has it that Cape Mulinu'u is where the souls of the dead pass into the underworld.
The Tafua Peninsula is a good area to explore, with its lava fields and flying foxes. Tafua volcano rim takes about an hour to hike around the base.
Volcanoes and Lava Fields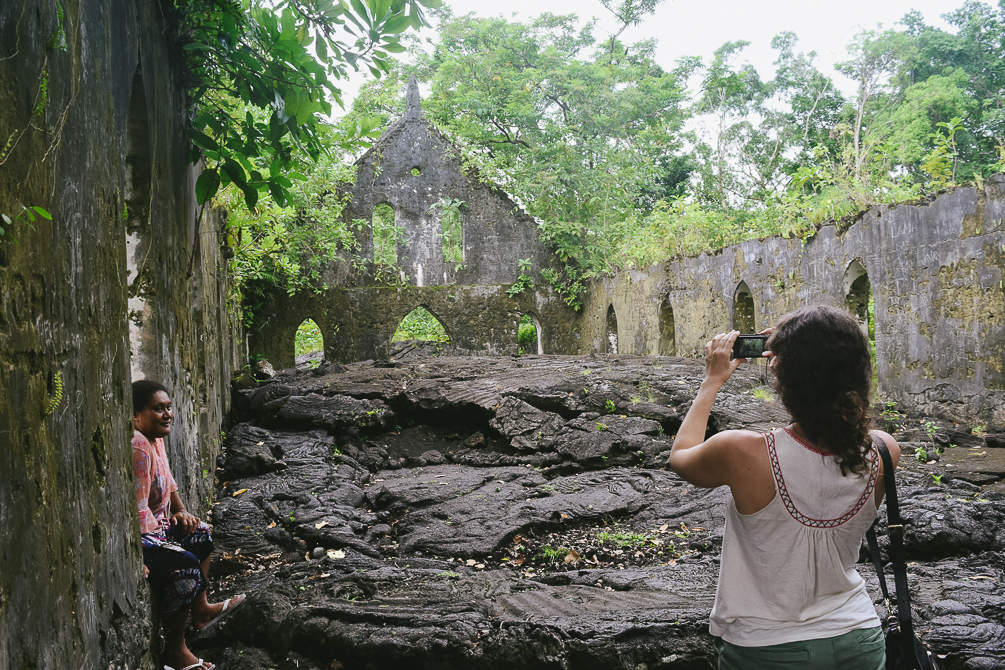 Savai'i is entirely volcanic, except for narrow strips of coral sand. Historic records describe massive lava eruptions at 150 year intervals, the last from 1905 – 1911. An eruption in the 1760s is considered the world's largest single eruption of historic time. You cross it when driving between Aopo and Asau.
Saleaula village is where you'll find the most popular lava field on the northwestern end of Savai'i. This area was destroyed by the lava flow in 1905, but the thick walls of the London Missionary Society Church still stand. Enter by the vestry door for the extraordinary sight of a church filled with several feet of black basalt. Take a short walk to see the only other thing to survive the flow, the Virgin's Cave.
On the northeast, the lava fields of Mt. Matavanu are a 3-hour walk inland from Paia village and one of the island's most impressive sights. The crater man, self-appointed custodian of the volcano, keeps the summit trail clear so have some cash on hand to leave a tip.
Letui peapea' cave is a lava tube cave, named after the swallows that inhabit it. It is easily accessible from the road and runs more than a half a mile towards the coast. The entrance to the cave is locked, so a guide is essential. This cave is home to a unique nocturnal creature, the white rumped swiftlet. The 'clicking' of these rare birds is clearly heard as they fly in the darkness.
Beaches & Waters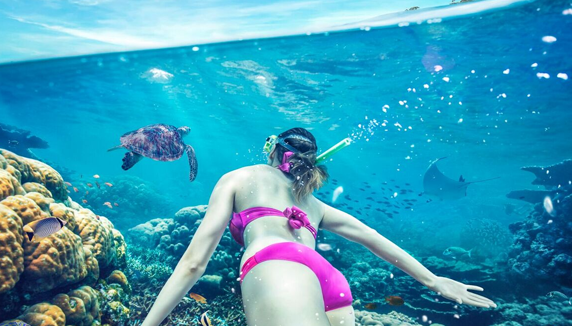 One can not forget the legendary white sand beaches while in Savai'i! Pristine and uncrowded, you might want to book a beach fale to truly immerse yourself. Some are modeled after traditional Samoan fales with open walls, pillars and a roof. Others offer modern amenities like en suite bathrooms and air conditioning. Whether you stay on the beach or just spend part of your day there, the clear waters surrounding Savai'i offer wonderful snorkeling and diving.
On the northern tip of the island, another popular attraction, Swimming with the Turtles can be found.  This lagoon is home to Green Sea turtles rescued by the local village. With help from the government, many are returned to the wild after their rehabilitation. There is an opportunity to swim with the turtles as well. If swimming with captive turtles isn't your thing, you can always take a snorkeling tour for the chance to see one of these majestic creatures in the wild.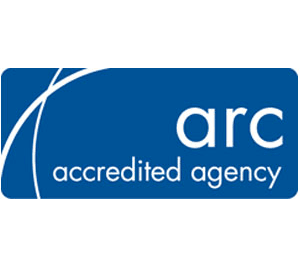 About Fiji is a subsidiary of About Australia, specializing in travel to Fiji. About Australia specializes in vacations to Australia, New Zealand & South Pacific. We're proudly ARC Accredited. ARC Agencies are the most select group of dedicated professionals in the U.S. travel industry & are recognized as having met stringent financial, personnel, and security requirements. We are partnered with Tourism Industry Leaders and can help you make the best selections for your vacation. Our Travel Experts have helped people travel for the best part of 20 years and look forward to helping you plan your holiday!
About Fiji Travel Agency Reviews
Arranged a trip to Fiji with Darin. We had a wonderful time and the trip exceeded our expectations. Every detail was arranged and in place as planned. We could not have asked for anything more. Would very highly recommend to others.

Darin was helpful and picked a real winner with Navutu Stars. It was perfect! Yatule and Qamea were also wonderful, but our favorite was Navutu. Overall, the trip planning went well with Darin. I felt that a few emails with questions were ignored or overlooked. Fiji is an amazing place with truly beautiful people and gorgeous reefs under crystal clear waters. I would advise any snorkeling lovers to put Fiji on your bucket list!

Fiji was like every single picture we saw...lush, green and mountains. The Fijian people were as warm and hospitable as the temperatures. We were so much in our element of resting and relaxation.
The only suggestion I have, is for About Fiji to communicate better with the hotel Hilton DoubleTree Sonasaila. When we arrived at 730am, our rooms weren't ready, nor were there any accommodations for us to properly rest. We had to 'hang out' until 3 pm in the lobby.
If this is a regular occurrence, may I suggest that About Fiji mention this to your guests. Suggest guests arriving at the hotel this early be prepared. Have the hotel be better prepared for the early-arriving guests. After traveling for 20 hours, a shower would have been most welcome. (Though the warm chocolate chip cookie was SO delicious!). Thank you!