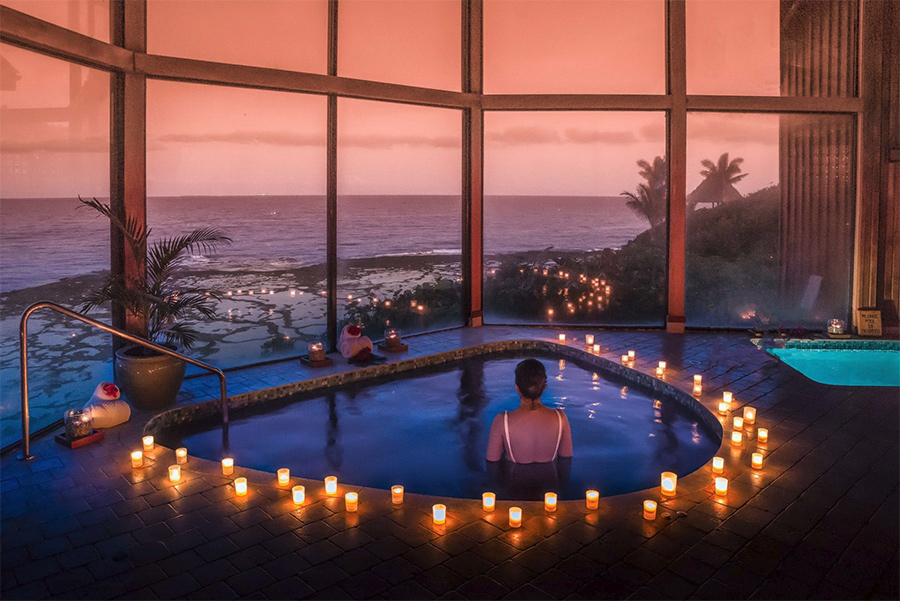 8 Best All Inclusive Resorts in Fiji
Fiji's collection of 330 impeccable islands teem with unique resorts. Looking for an adventure trekking through lush rainforests and discovering secluded waterfalls? Wanting to celebrate the start of a new life together with a romantic honeymoon in the tropics?
And most importantly – seeking an indulgent all inclusive experience?
Fiji is home to some of the best all inclusive resorts in the world. From private island, adults-only retreats to boutique, family-oriented luxury resorts, you're guaranteed to find your own definition of paradise.
Here is our countdown of the best 8 all inclusive resorts in Fiji.
8. Koro Sun Resort and Rainforest Spa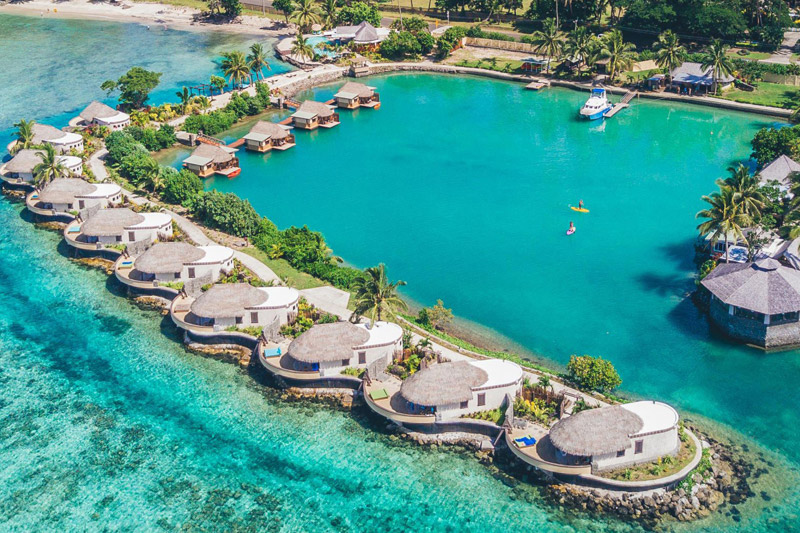 Pack your reef shoes and sportswear – at Koro Sun Resort and Rainforest Spa, the adventure comes to you. Hidden among the lush rainforest of Savusavu, Koro Sun Resort is an oasis of tropical bures stretching out into a turquoise lagoon.
The endless list of included resort activities promise a new adventure every day of the week. Guided snorkeling takes you to the mesmerizing coral gardens abundant in colorful starfish and tropical fish, right in the resort lagoon. Kayak across the resort reef to stunning atolls and neighboring islands, or try your hand at stand up paddle boarding. Venture into the rainforest on a guided trek, learn the secrets behind natural remedies on an herbal walk or hop on a resort bike and cycle down the scenic Hibiscus Road.
And you've still got rainforest golf, volleyball, tennis courts, handline fishing, coconut demonstrations and much more to cross off your list.
The inclusive experience begins with complimentary round trip transfers from the Savusavu airport to a daily continental breakfast. Though not a true all inclusive resort (meal plans are available for purchase), the included resort activities undeniably makes up for it.
Perhaps the best yet understated inclusion is the sense of "real" Fiji enveloping the resort, from its traditional thatched bure roofs to the tranquil rustle of rainforest palms in the breeze. And the warm welcome complete with Fijian song, fresh coconut drink and foot massage is the perfect introduction to the unbelievably friendly Fijian way of life.
7. Matangi Private Island Resort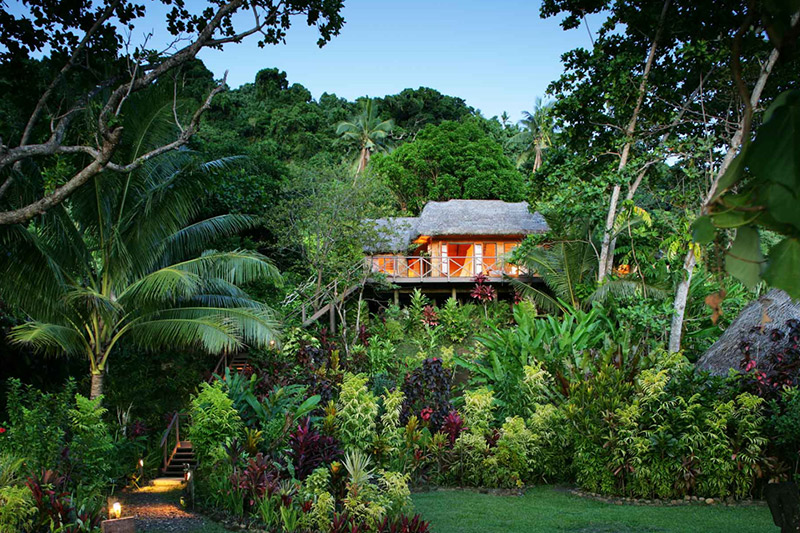 Just tied the knot? Look to Matangi Private Island Resort for the perfect honeymoon destination. Nestled beside Matangi Island's splendid Horseshoe Bay, one glimpse of this tropical rainforest haven will take your breath away.
For a true "wow" factor, stay in Matangi's unique Treehouse bures, featured on Travel Channel's "Tremendous Treehouses." Surrounded by resplendent tropical foliage yet only steps from the beach, this tree top escape is perched in ultimate privacy.
Every bure features handcrafted details highlighting their traditional Fijian architecture, complementing their sophisticated interiors. Daily laundry, maid and evening turn-down services complete the experience of elevated comfort.
Venture into the surrounding seascape on daily snorkeling excursions and discover a treasure trove of blue starfish, candy-colored corals and dazzling tropical fish. When your days aren't filled with kayaking, standup paddle-boarding, hand-line fishing or catamaran sailing, opt for a private beach picnic on Horseshoe Bay, listed in ISLAND Magazine's "1,000 Places to See Before You Die."
6. Likuliku Lagoon Resort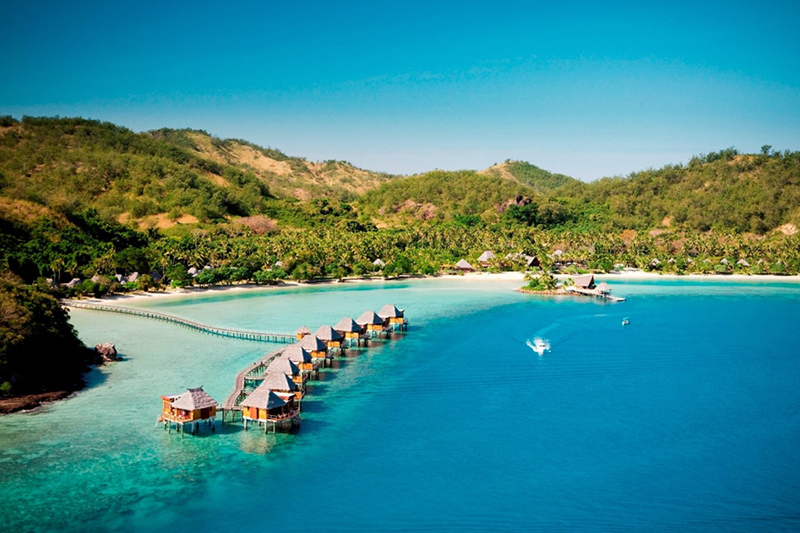 For that iconic overwater experience, you can do no better than Likuliku Lagoon Resort. Its combination of crystal clear warm waters, shady palm trees and balmy nights create the idyllic tropical island retreat.
Apart from its 10 traditional yet elegant overwater bures, its beachfront and garden bures offer secluded havens with spectacular views of the sparkling turquoise lagoon. Delight your tastebuds with sensational meals, all included and cooked to Michelin-star standards. Seriously, the food here should come with a warning. It will ruin anything you try after your stay at Likuliku.
The snorkeling here might spoil you, too. Step right out of an overwater bure and enter a tropical aquarium of manta rays, cuttlefish, colorful reef fish and a spectacular display of coral formations. Or snag a slice of your own private beach with a beachfront bure.
5. Savasi Island Resort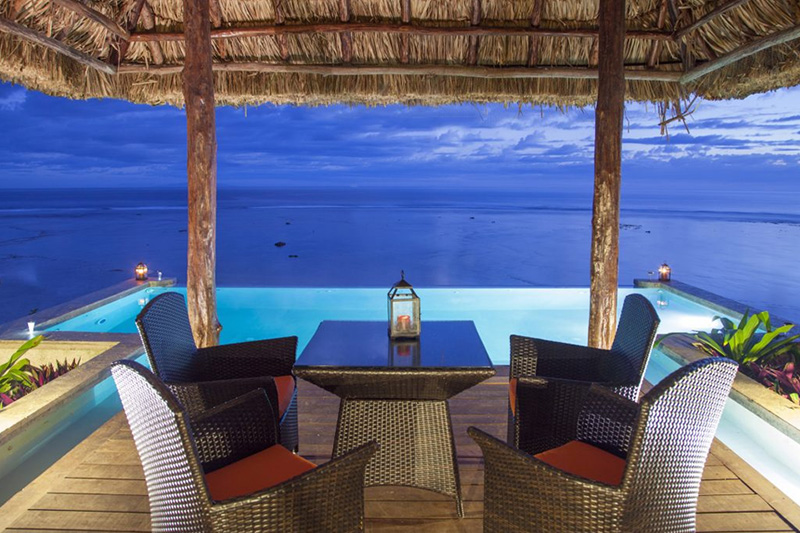 With only 7 villas and a unique 140 ft three-masted schooner accommodation, the level of personal and attentive service provided by Savasi Island Resort is unparalleled. Begin your day with breakfast brought out to your villa, or enjoy dinner in a secluded cavern by the sea. Any whim will be indulged with a smile and effort above and beyond your expectations.
All included meals are gourmet multi-course affairs featuring local ingredients and freshly caught seafood. Taste banana pancakes with homemade caramel sauce for breakfast to banana flower salad, satay prawns and beef curry skewers for dinner. Those with a sweet tooth won't resist the creations of the pastry chef.
Whether you want to spend your days exploring the captivating surrounds on guided village visits and rainforest treks or relaxing poolside, Savasi encourages you to recharge in your own way. Right on hand when you require service and providing serene privacy when you don't, Savasi anticipates your exacts needs unlike anywhere else.
Join in on herbal walking tours, Fijian cooking classes, meke celebrations and lovo feasts for an immersive insight into Fiji's rich culture and traditions.
4. Jean-Michel Cousteau Resort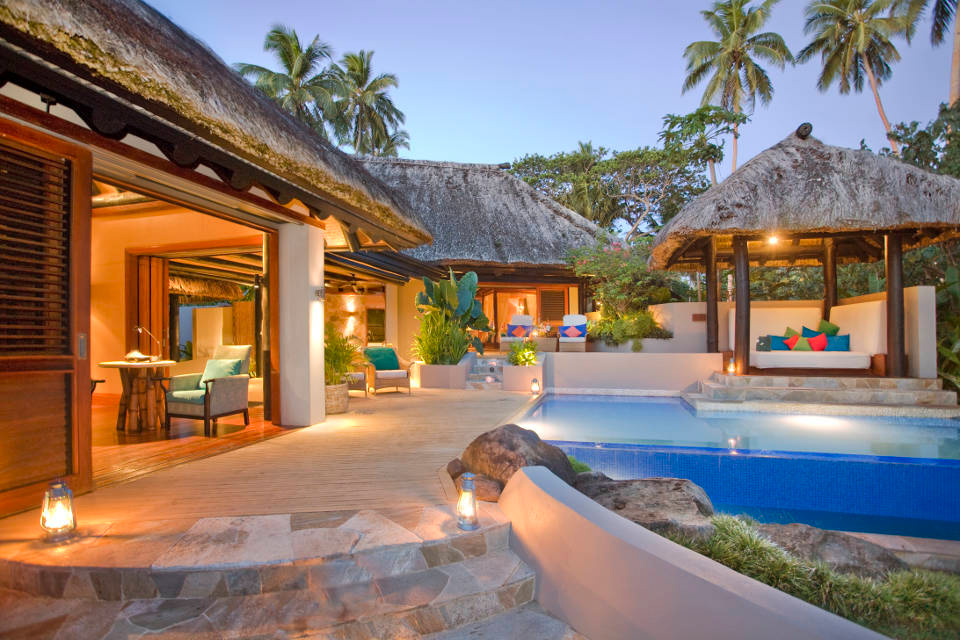 Overlooking the spectacular Savusavu Bay, Jean-Michel Cousteau Resort offers something for everyone. A pioneer in eco-tourism, this resort combines careful consideration for the environment with impeccable luxury. Built on a former coconut plantation on a curve of beach, the swaying palm trees and ocean views will instantly transport you into paradise.
This resort places authentic Fijian culture at the heart of every experience, from its impossibly accommodating staff to evenings filled with traditional song and dance. All its 25 villas arebuilt entirely from local materials, complementing the stunning setting.
Surrounded by a marine sanctuary, the snorkeling and diving on offer is out of this world. Learn about the exotic marine life around you with the help of the onsite marine biologists and professional scuba instructors.
Another plus that not many all inclusive resorts in Fiji can boast – this resort is completely family friendly. With an exceptional kids club supervised by attentive nannies, even the kids won't ever want to leave.
Spend an afternoon on a private island excursion, discovering the colorful marine life underwater or the lush hikes above land. Try your hand at sailing or kayaking along the shoreline of Savusavu Bay. There's no end to the adventures at Jean-Michel Cousteau Resort – no stay will ever feel like enough time.
That's just a perfectly reasonable excuse to go back.
3. Turtle Island Resort
Located in the stunning Yasawa Islands, you'll recognize the pristine setting of Turtle Island Fiji from the film The Blue Lagoon. This 500-acre private island is home to 14 villas for couples only, ideal for a honeymoon or anniversary celebration.
From the moment you step off the seaplane at the resort, you're made to feel like family. A warm serenade and your personal Bure Mama await. Nothing is too much trouble. From arranging a private beach picnic to daily laundry service, your Bure Mama will make sure you never have to lift a finger.
Here, "all inclusive" means you're part of the Fijian family on the island. Breakfasts and dinners are shared together with all guests, including a splendid mountain top dinner on Saturday nights. But if it's privacy you're after, opt for an intimate dinner on a floating pontoon the lagoon, on the serene spa deck, or just outside your villa.
As a solar-powered resort, Turtle Island is all about preserving its natural beauty. Amble through its lush five-acre garden, hike canopied jungle trails or explore the island by mountain bike. Walk on the white sands of the island's ten private beaches, ringed by turquoise waters dappled with vibrant reefs at your feet.
You'll find that most other guests at Turtle Island are repeat visitors. That's just a testament to its promise of feeling like a home away from home.
2. Kokomo Private Island Fiji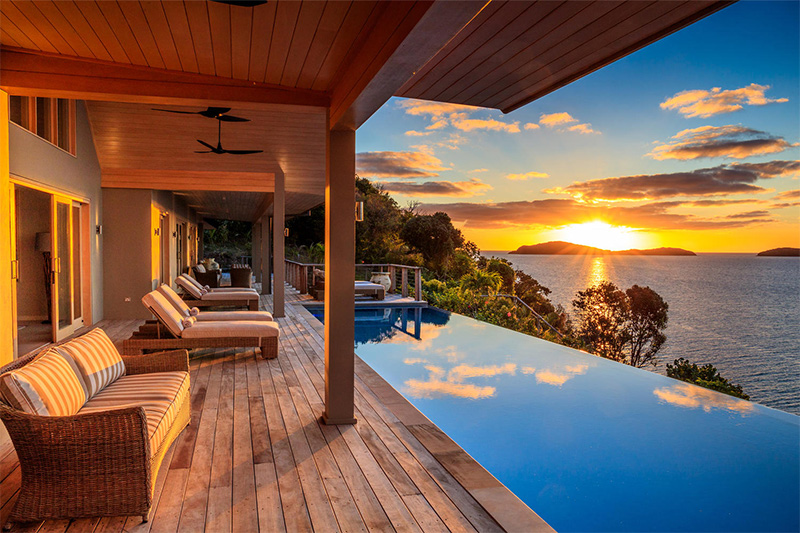 It can't be denied that Fiji's newest and most exclusive resort is a cut above the rest. Nestled on the edge of the celestial Kadavu Island Group, Kokomo Private Island Fiji encapsulates the essence of barefoot luxury. At Kokomo, six stars means personal Kokomo butler service, an introductory spa treatment, one tank scuba dive and all meals included.
Its 21 open-plan beachfront villas dot the island, guaranteeing your own slice of private paradise. Complete with an infinity pool and countless lounge chairs to sink into a sun-induced coma, your villa will feel like your own private spa sanctuary. The tiniest details, from fresh cookies in your cookie jar every morning to the leaf imprints decorating the paved footpaths reveal the deep passion behind every touch of this resort.
You won't want to miss out on the snorkeling. Located right off of the Great Astrolabe Reef, the colors here are truly otherworldly.
1. Namale Resort & Spa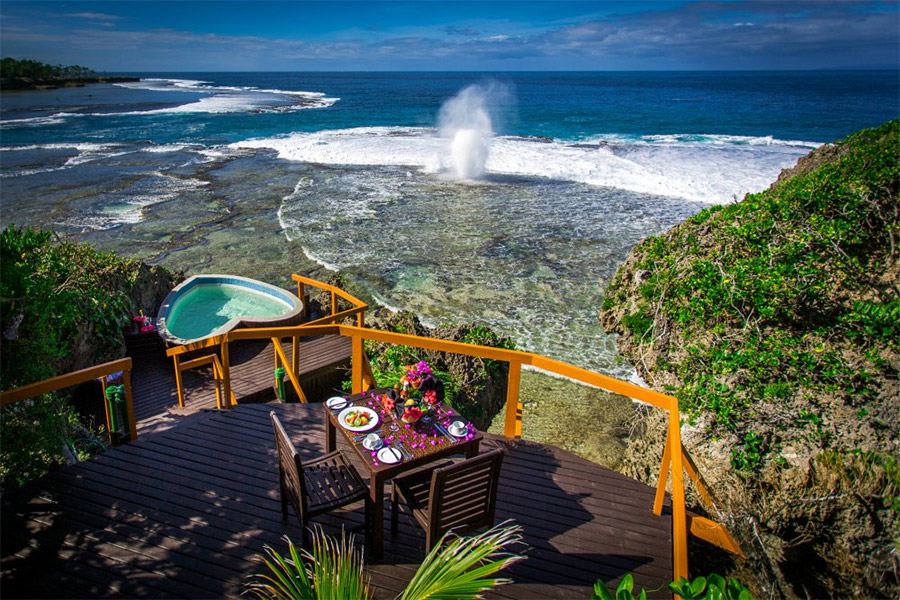 Let's face it – no resort can truly call itself "all inclusive" if it doesn't include drinks. And Namale Resort & Spa has it all. Premium wine, liquor, beer, spirits, any sort of cocktail you can imagine – Namale's got it. All included in your rate.
But apart from its extensive drink menu, the world-class dining on offer – featuring fresh ingredients sourced from Namale's own organic farm – is elevated to unparalleled heights with its intimate and flexible dining experiences. Besides its two main on-site restaurants, you can also dine in private, romantic settings tailored just for you.
Dine by a secluded rainforest waterfall, right on the beach with your toes in the sand, on a private deck featuring a romantic heart-shaped hot tub and amazing ocean views or in an intimate cove illuminated by the glow of a dozen candles.
Want to stay in your bure and have tropical cocktails personally delivered to you? Craving lobster three days in a row or a simple grilled cheese? Namale's also got you covered.
With 19 private bures and villas spread over 525 acres of lush tropical rainforest, you'll enjoy utmost privacy at this adults-only resort. Featuring five-star amenities along with private decks  and private pools in the villas, Namale is all about unapologetic luxury in Fiji. Combined with touches of traditional Fijian architecture, you'll feel like island royalty.
Looking for an All Inclusive Fiji Experience?
Whether you're looking for a private island escape or an indulgent getaway for the family, Fiji's best all inclusive resorts promise unforgettable experiences that are out of this world.
As experts in Fiji travel, we'll point you to the best all inclusive resorts tailored specifically for your ideal vacation.