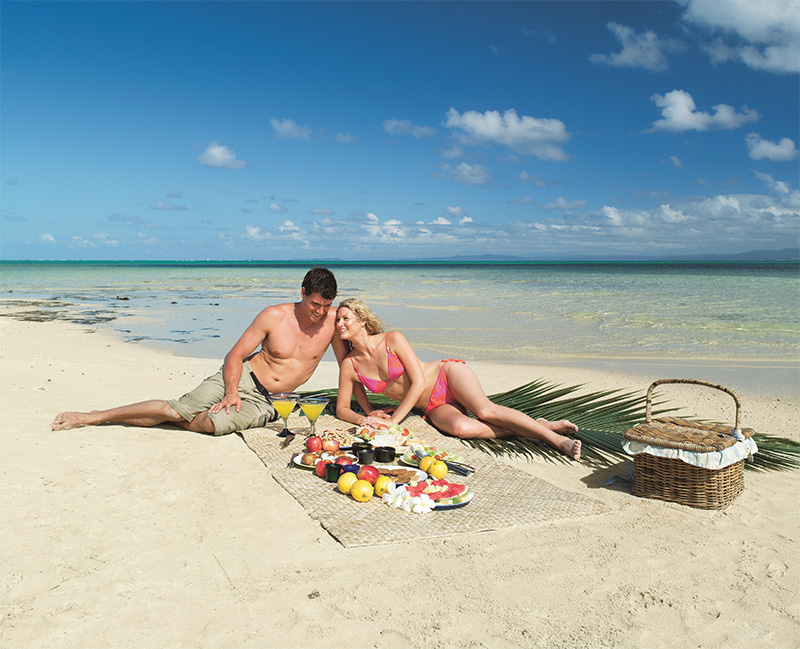 6 Best Fiji Honeymoon Resorts (And Tips for the Perfect Honeymoon)
There is something about sun, sea, salt and sand that makes the body simply surrender into endless relaxation.
This is exactly the sort of unwinding you need after your wedding day.
The tropical islands of Fiji are the perfect destination to keep riding the high of your special day with your partner. With an outstanding collection of some of the world's best resorts, finding the right resort for your Fiji honeymoon can be overwhelming.
We've made it easy with our list of the 6 best Fiji honeymoon resorts, along with tips for planning the perfect honeymoon.
1. Namale Resort & Spa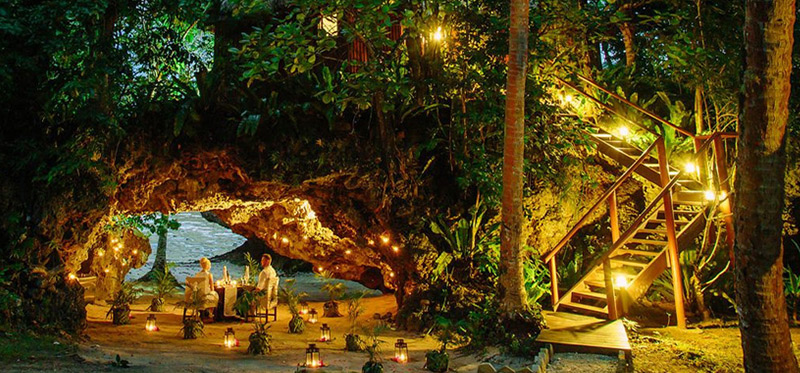 Why we love this resort: the dreamy private dining experiences in secluded destinations
Rating: 5-star
Location: Savusavu, Vanua Levu
Adults Only: Yes
All Inclusive: Yes
Beachfront: Yes
The ultimate island royalty treatment awaits at Namale Resort & Spa. From the custom name plate carved with your names on your bure door to the exquisite outdoor dining, Namale makes every moment feel just like your special day.
Perfect for the couple that goes with the flow, Namale's extensive list of inclusive activities ensures each day is spent as active or relaxed as desired. Explore the surrounding reef and tide pools, trek through the rainforest on a guided waterfall hike, visit a Fijian village, take a stroll along the beach on horseback or sunbathe by your private pool, drinks brought to your hand. No matter how you wish to spend your day, you barely need to ask and your wish is granted.
With 19 luxurious bures and villas spread out over 525 acres of lush tropical rainforest, each accommodation affords utmost privacy in your own little slice of paradise. No two bures are the same, each set in what feels like an entirely different world from the others. Traditional in design yet elegant in detail and modern amenities, each bure is fit for royalty.
The resort highlights its splendid surrounds with unparalleled dining experiences. Enjoy breakfast by a sparkling waterfall cascading through tropical foliage, or dine in a candlelit, seaside cave to utterly sweep your partner off their feet. Namale takes dining presentation to a truly breathtaking standard.
2. Jean-Michel Cousteau Resort Fiji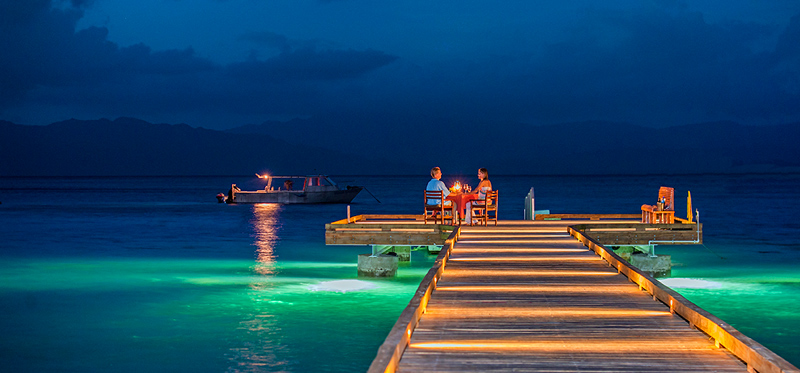 Why we love this resort: the incredible diving on world-famous Namena Marine Reserve
Rating: 5-star
Location: Savusavu, Vanua Levu
Adults Only: No
All Inclusive: Yes
Beachfront: Yes
If scuba diving is on your bucket list, there's no question – Jean-Michel Cousteau Resort is where you need to go for your Fiji honeymoon.
Perfect for the couple looking for adventure, this eco-resort is like reliving those heady summer camp days, hand-in-hand with your childhood crush.
You'd never thought it could get better than those good old days. But once you step foot into this resort, you'll feel the familiar excitement and childlike wonder wash over you, even better now with your lifelong partner at your side.
With a dive center headed by Jean-Michel, son of legendary scuba diving pioneer Jacques Cousteau, the underwater experiences on offer here are unparalleled. Dive over a dozen stunning reef sites or get your feet wet with PADI certification courses on offer. Join the resident marine biologist, Johnny Singh, on immersive snorkeling excursions and reef assessments.
The adventures continue above the water with a glass bottom boat, paddle boarding, kayaking, sailing, eco tours and more. For an unforgettable day of romance, reserve an excursion out to the secluded Naviavia Island with a specially prepared picnic for two.
3. Qamea Resort and Spa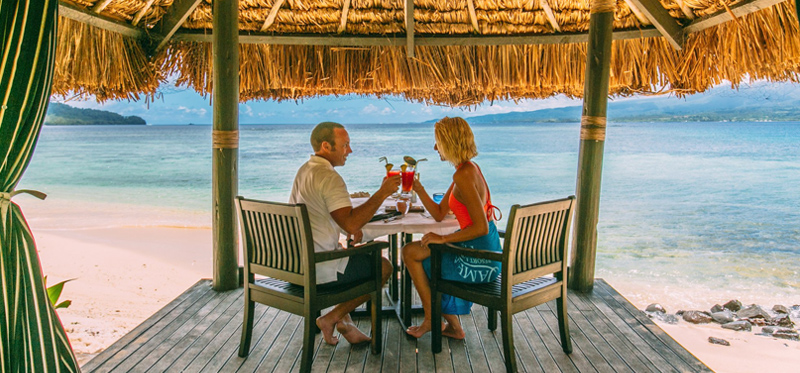 Why we love this resort: the Jungle Spa's Night of Decadence package
Rating: 5-star
Location: Qamea Island
Adults Only: Yes
All Inclusive: No
Beachfront: Yes
This intimate, boutique resort located on the idyllic Qamea Island is the epitome of a secluded island escape.
And the incredible snorkeling right off the beach opens up an entirely different paradise beneath the pristine waters.
The discrete Honeymoon Villas are built in traditional Fijian thatched style above soaring ceilings. A private courtyard with a jacuzzi spa bath, outdoor showers and cozy daybeds will make you never want to leave your villa. With each of the resort's 25 accommodations surrounded in seclusion by lush tropical gardens, you'll feel like the only couple on the island.
For a truly indulgent experience, book the Night of Decadence package from Qamea's Jungle Spa. Beginning with a Fijian Warrior escort from your villa to the Jungle Spa, you'll surrender into bliss with a series of soothing massages accompanied by champagne, a tropical fruit platter and the natural tranquility of the surrounding rainforest. But the indulgence doesn't end there. A romantic candlelit dinner awaits back at your villa, along with more champagne and a warm serenade by the talented Qamea band.
With some of the friendliest and accommodating staff in all the South Pacific, Qamea truly makes you feel like you've found your own private paradise. You'll be planning your return visit the moment the staff sees you off with a tear-welling goodbye.
4. Likuliku Lagoon Resort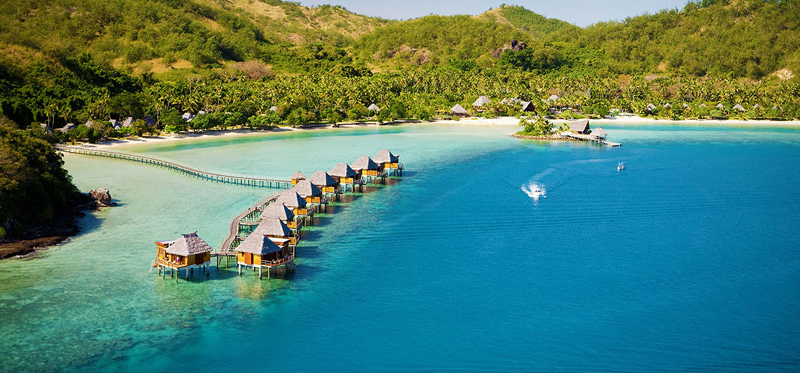 Why we love this resort: Fiji's first and only authentic overwater bures
Rating: 5-star
Location: Malolo Island, Mamanuca Islands
Adults Only: Yes
All Inclusive: Yes
Beachfront: Yes
If you're looking for that iconic overwater experience above crystal turquoise water, Likuliku Lagoon Resort is your place.
Apart from its 35 beachfront bures, its 10 exclusive overwater bures perch above a natural, pristine lagoon. The bures feature traditional Fijian architecture designed with elegance and style, adding a breathtaking element as you float above the water. Excellent snorkeling along the fringing reef is easily accessed right from your bure.
For the secluded island castaway experience, take the short 15 minute boat trip to Mociu Island. Here, you and your partner have an entire island to yourselves to explore, snorkel the colorful surrounding reef or simply take in the beauty of the private beach.
At Likuliku, the overwater bures are perfect for leaving the bustle of your wedding behind and slowing down to the rhythm of island time.
5. Matangi Private Island Resort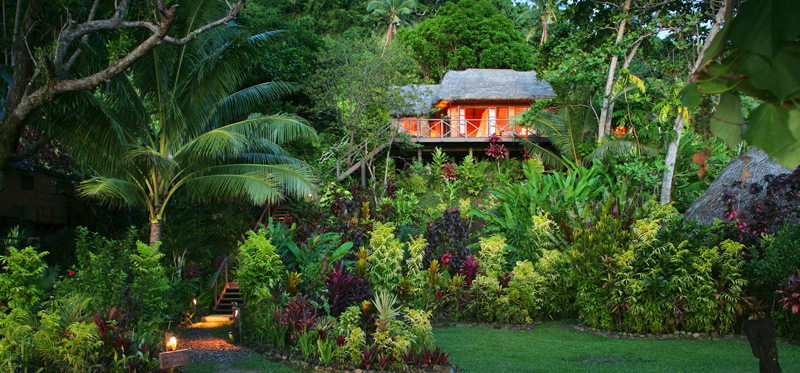 Why we love this resort: the elegant Treehouse Bures overlooking Horseshoe Bay
Rating: 4-star
Location: Matangi Island, Taveuni
Adults Only: Yes
All Inclusive: No
Beachfront: Yes
Romance is inescapable at Matangi Private Island Resort. Voted by Conde Nast Traveler as one of the "Top Five Most Romantic Resorts in Fiji," Matangi sits on the edge of Horseshoe Bay, also listed in "1,000 Places to See Before You Die."
So many accolades, yet once you step foot on this island you soon come to see why.
Accommodating a maximum of only 12 couples, everything about Matangi is designed to make you feel like the only couple on Earth. Whether your exploring the pristine reefs and vibrant blue starfish of Horseshoe Bay or enjoying a private dinner by the beach, the rest of the world will feel like a distant dream.
This horseshoe-shaped island boasts incredible views of crystal clear waters, white sand beaches and rolling green hills emerging from the ocean, all visible from the resort's bures. For a truly unique getaway, stay in the resort's exclusive Treehouse Bures, featured in Travel Channel's "Tremendous Treehouses." Surrounded in lush tropical foliage yet only steps from the beach, the Treehouse Bures offer the intimate seclusion honeymooners seek in an island destination.
6. Matamanoa Island Resort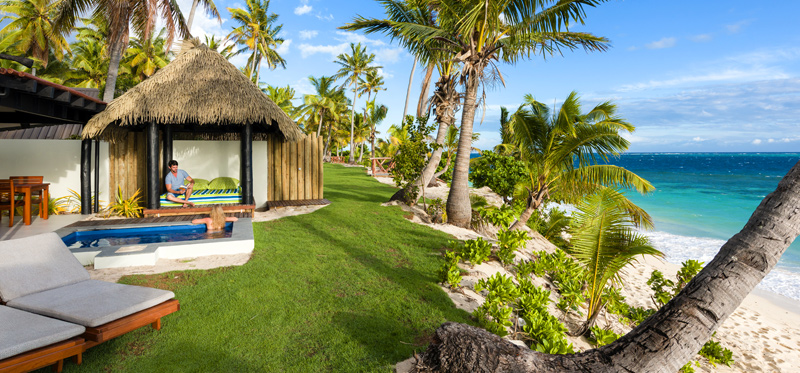 Why we love this resort: the genuine staff makes you feel like part of the most welcoming family in the world
Rating: 4-star
Location: Matamano Island, Mamanuca Islands
Adults Only: Yes
All Inclusive: No
Beachfront: Yes
It's true that Fijian hospitality is on par with the best in the world. How can you beat the Fijians' radiant smiles, accommodating nature and affinity for song?
At Matamanoa Island Resort, you feel like you've just arrived at home. A cheerful chorus awaits your arrival, an eager staff proud to share their stunning resort to you. Just one look at this mesmerizing resort is enough to win you over: lush greenery adorns the sugar-white sand island, surrounded by the bluest water you've ever seen.
Do as much or as little as you like, from snorkeling vibrant reefs to mountain hiking and Fijian cooking lessons to basket weaving lessons. Complete a PADI open water certification with knowledgeable instructors or try your hand at light tackle fishing.
Retreat to your accommodation, crafted with traditional Fijian woodwork and designs. The Beachfront Bure is easily our pick for honeymooners looking to relax in the comfort of their own room. With a private plunge pool and shaded outdoor daybed, relaxing under the rejuvenating Fijian sun is as easy as simply stepping out your door.
---
Considering a Fiji Honeymoon?
Here are our top tips:
1. Decide on the type of honeymoon you want
Do you plan on relaxing by the beach, cocktail in hand, for days on end? Are you planning on snorkeling and diving from sun up to sun down? The way you plan to spend your honeymoon is incredibly important for choosing the right Fiji destination. You don't want to end up on a resort with no accessible beach if you're planning to spend your whole time there. Some resorts cater more towards adventurous guests while others are better for ultimate relaxation.
2. Settle on a budget
In Fiji, you can be as extravagant or as practical as you like – you just need to make sure you're at the right place. Many Fijian resorts offer inclusive packages and meal plans, and others offer the full, all inclusive experience where you hardly need to lift a finger. These sort of indulgent packages come with a high price tag to match, so be sure you have an idea of what you're willing to spend for your Fiji honeymoon.
3. Avoid the rainy season
Fiji is an incredible destination any time of the year, but for a special occasion like your honeymoon it's best to avoid the rainy season. November to April sees the most rain, with January to March as the wettest months. The best time to visit Fiji is during the shoulder seasons, from late April to early May and October to early November. This is when crowds begin to dwindle and the wet seasons are ending or haven't started yet.
4. Plan with a Destination Specialist
With over 330 islands, choosing the right resort for your Fiji honeymoon can easily get overwhelming. Working with an About Fiji specialist ensures you're working with a travel expert who's been to Fiji and knows which resorts will suit you and your partner perfectly. You'll receive personalized service with every detail taken care of, from take-off to your last flight home. We won't put you in a resort with no healthy reef system if you wish to snorkel and dive, nor will we send you to a resort requiring several boat trips and separate flights to get to if you want to relax the moment you arrive in Fiji.
Ready to plan your Fiji honeymoon?
Your honeymoon should be the trip of a lifetime. Contact us to work with a personal Fiji travel expert to plan the honeymoon of your dreams.
---
9 Days - 7 Nights

Unique Romantic Getaway. Rare Sale! Recently Updated w/ Transfers.

8 Days - 6 Nights

Special Romantic Package. Luxury Fiji Resort w/ FJ$500 Resort Credit

7 Days - 5 Nights

An Incredibly Romantic Deal for Two w/ Fiji Flights, Resort Activities & Upgrades