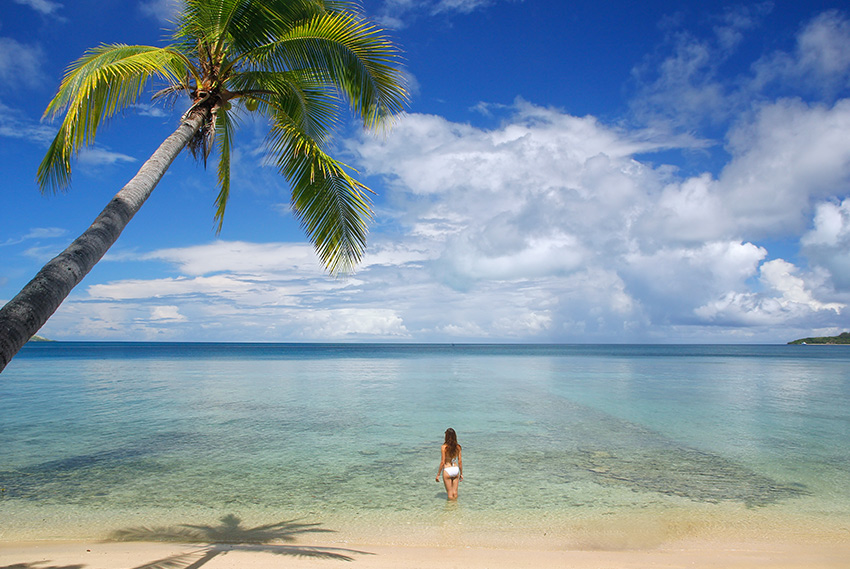 How to Choose a Fiji Destination
First timers to Fiji are often overwhelmed by the number of options they have for Fiji destinations. Fiji encompasses over 320 islands! It's pretty hard to narrow down the best option. So how do you choose the best Fiji destination?
While each Fijian island is a different version of heaven, you must find the island or islands that suit your needs and your idea of a perfect vacation.  Are you looking for luxury or culture?  Romance or adventure?  Diving or beach lounging?  Or more likely, a unique combination of all the above! After taking your dreams into careful consideration, we can find the Fijian island destination that is perfect for you.
Romance in Fiji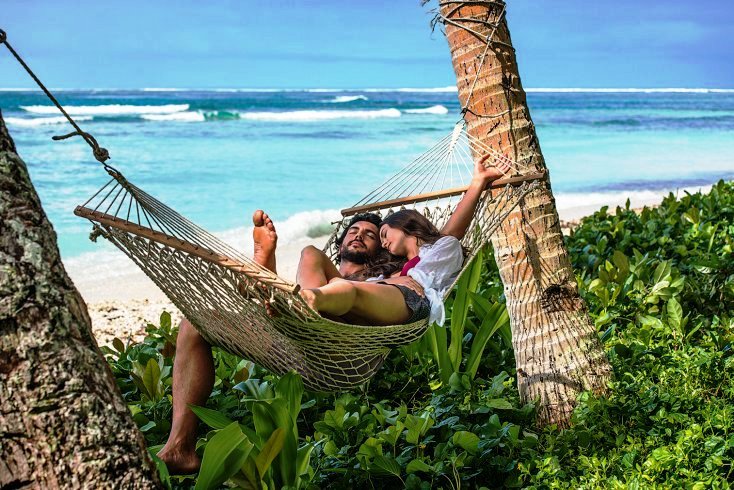 Romance comes in many forms.  For lovers that want to share their slice of paradise with no one else, there are islands that offer total seclusion.  On one of our favorite private islands, off the coast of Taveuni, you'll be isolated on one of the world's most surreal beaches.  The horseshoe shape of the island makes for a stunning white sand beach.  Two green peninsulas stretch toward each other with crystal clear water between.  You and your sweetheart can have this spectacular setting all to yourselves as you enjoy a romantic picnic or stroll through the sand with this upgraded package.  This private resort offers romantic candlelit dinners, soothing spa packages and exciting couple's activities.  Their romantic treehouses, featured on the Travel Channel's "Tremendous Treehouses", offer barefoot luxury that you must experience to believe. It's the perfect place to celebrate your love without distractions.
If that isn't secluded enough, one of our favorite resorts in Pacific Harbour has an excursion right up your alley.  A completely deserted island can belong solely to the two of you for a night.  Without another human being for miles, you and your lover can bask in each other's presence and enjoy total seclusion.  There's no better way to feel like the only two people on the planet.
When traveling in Fiji for romance, you simply must visit the Mamanucas.  The Mamanuca Islands are home to some of the finest adults-only islands and resorts.  Enjoy a paradise designed strictly for lovers with an itinerary that couples a romantic private island stay with a visit to Natadola Beach.  Or share your love in one of the only authentic overwater bungalows (called bures in Fiji) found in Fiji. No matter how many islands you've visited in the past, the Mamanucas are sure to astonish you.
Adventure in Fiji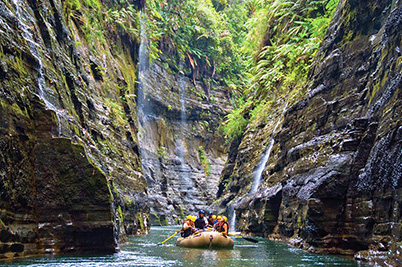 If it's adventure you seek, Fiji will take your vacation to high speeds.  Nearly every island resort hosts such activities as standup paddle boarding, kayaking, scuba diving and snorkeling.  But that's just the tip of the iceberg.  On Beqa Island, you can dive to the ocean floor for a shark feeding that will attract colossal tiger sharks!
Pacific Harbour is famous for being the adrenaline capital of the archipelago nation, and also has excursions for shark feeding.  Here, you can rip through the rainforest on ATVs, surf some killer waves, go whitewater rafting or reel in feisty sailfish.
Savusavu is another great destination for adventure. This tropical resort offers many complimentary guided excursions and even has an overwater bungalow-style experience, with bures right on the water's edge. Cycle along the beach, kayak out to a private island and explore the tide pools or trek through the jungle with a friendly staff member. All tours are catered to your own sense of adventure!
Family Vacations in Fiji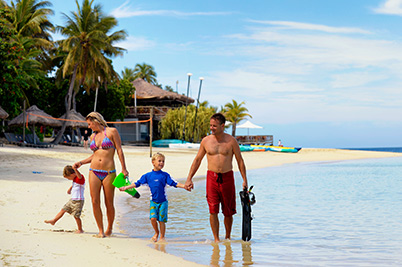 Family vacations are always a struggle. Pleasing everyone usually seems like an impossibility, but at this resort in Savusavu, it is guaranteed!  This five-star luxury experience offers you and your kids the perfect balance between relaxation, recreation and an interactive authentic experience with Fijian culture and nature. With the award-winning kids club and personal nanny services included, your little ones can look forward to spending their days learning about Fijian culture or arts & crafts, exploring coral reefs, helping with mangrove re-plantation projects, learning to bake with a sun oven and playing with their new friends. You can relax in peace knowing your children are well cared for and having an amazing time.
For a more affordable family vacation, head to a small Mamanuca Island. Separate Kids Clubs for different aged children will have your little ones grinning from ear to ear. Meanwhile, mommies and daddies can enjoy some down time at the resort spa or relaxing by the adults-only pool. The entire family can make some memories together partaking activities like snorkeling, hobbie cat sailing, fish feeding and ziplining through the jungle.
Cultural Vacations in Fiji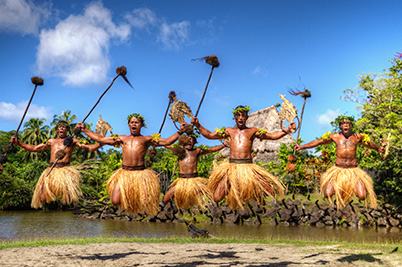 Culture is always important when choosing a destination.  In Fiji you can learn the intricacies of island living on the most impeccable beaches. Locals will take you horseback riding across Natadola Beach, ranked one of the top ten beaches in the world.  Vacation packages to Rakiraki offer chances to really submerge in Fijian culture with an extremely friendly and open staff.
Any place you visit in Fiji will offer village visits and show you a different way to look at the world.  The locals here follow a way of life that has remained unchanged for over a century.  Peruse local markets, visit schools and attend religious ceremonies at quaint churches.
One of our favorite authentic Fiji resorts offers a nice blend of contemporary luxury and traditional Fijian culture. This one's also good for families, providing free butler and nanny services.
Diving in Fiji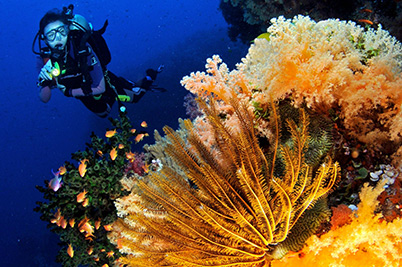 Known as "The Soft Coral Capital of the World", Fiji offers some of the best visibility for divers. There are countless amazing places to dive in Fiji and no matter where you stay, you'll likely find incredible diving. But some of our favorite sites are in Tavenuni, Savusavu,  Kadavu, Rakiraki & Bega Lagoon.
There are endless possibilities in the islands of Fiji.  This is just a short introduction.  Still not sure how to choose a Fiji destination? Give us a call or inquire for a custom quote at no obligation.  Whatever you desire, you can find it here and we'll help you make it happen. Start planning your amazing vacation with your personal About Fiji travel expert today.