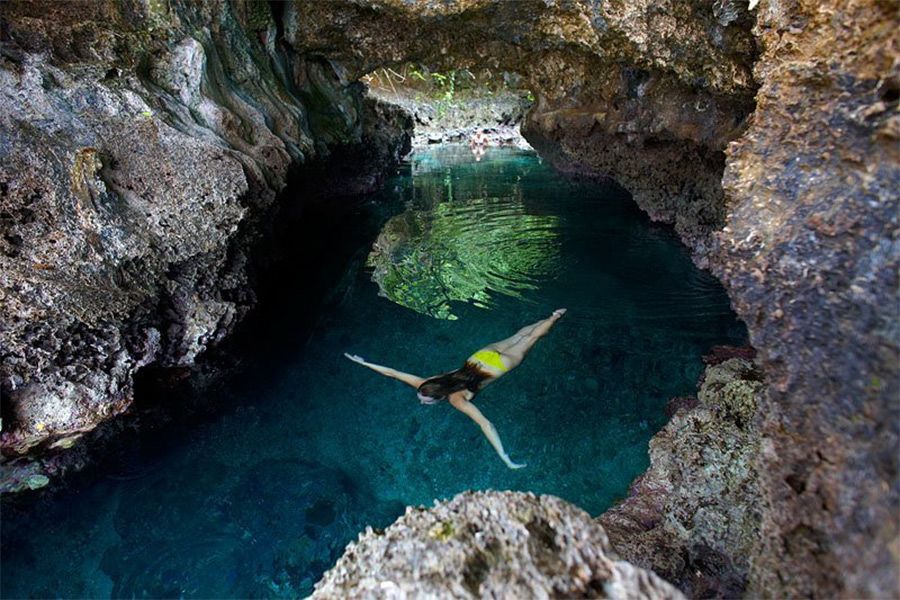 Things to Do in Fiji
There are countless things to do in Fiji!
With white sand beneath your feet, crystal clear water rushing in and lush rainforests behind you, you might never need to look for things to do in Fiji aside from admiring the scenery. But this tropical paradise is much, much more than just pretty to look at. From adventure to relaxation, luxury to culture and everything between, the incredible variety of things to do in Fiji will impress even the most experienced traveler.
Explore Nature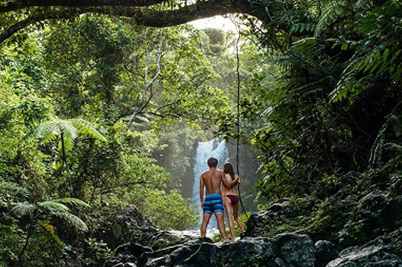 Exploring the scenery of this tropical utopia is a must. Start by grabbing a snorkel and mask and plunge beneath the surface. While the setting on land is nothing short of heaven, the marine world below is somehow even more amazing. Reef formations boast miles of glowing coral, where unique and splendid species of fish, octopi, eels, sharks and more call home.
However, snorkeling is just a taste. To really delve into the world-renowned marine habitat surrounding Fiji, strap on an air tank and submerge into its waters. Explore shipwrecks, reef walls and otherworldly marine habitats that will completely blow your mind. Sit on the ocean floor and witness a feeding that attracts 8 species of sharks – including the highly sought-after tiger shark!
Once you've journeyed through the waters of Fiji, it's time to set out on land. Rainforest trekking, herbal medicine tours and hikes through beautiful jungles boast awe-inspiring lookout points where the ocean seems to go on forever.
Experience Culture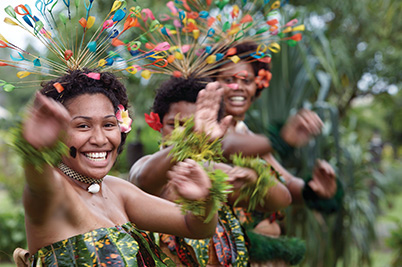 Village visits are common excursions on every island and give insightful perspectives on the way locals live. Pay a visit to local communities where the native people follow a way of life that has remained unchanged for centuries. You'll learn the proper way to open a coconut and how to weave a basket from coconut palms.
The locals will even take you to hidden gems around the island. You'll discover breathtaking waterfalls and natural rock slides formed from millennia of volcanic activity.
But you don't have to make the trip to the village to get a taste for Fijian culture.
At any resort in the archipelago nation, you may join in Meke dances, Lovo feasts and Kava celebrations. Mele is a native dance where dancers don grass skirts and coconut tops, then shake, twist and sing in a celebration so lively you can't help but share their elation.
Lovo feasts involve traditional Fijian cooking methods where food is cooked in an underground furnace, much like a Hawaiian luau. You'll be shown the intricacies of this method and feast on the mouthwatering meals it yields.
Kava ceremonies are perhaps the most interesting custom that you'll partake in during your visit to Fiji. Join the locals as they sing, dance and prepare bowl after bowl of this root-based beverage. Kava has an earthy taste and produces slight senses of stimulation, numbness and even euphoria. It's comparable to a strong cup of coffee. The real allure of this ceremony is joining the locals and living as they do, sharing their customs and worry-free island joviality.
Have a Few Adventures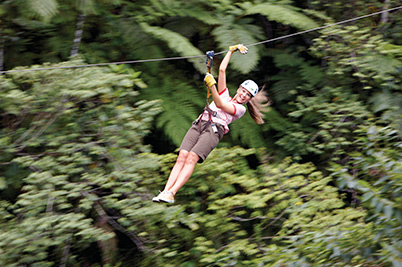 More adventurous travelers may want to think about an extended trip as Fiji is any thrill seeker's paradise. Stand-up paddle boarding, kayaking and snorkeling are available at nearly every resort, but that is just scratching the surface.
Strap on a pair of water-propelled rocket boots and lift off like Iron Man. These contraptions will fly you through the air and glide you through the water, truly thrilling for any adrenaline junkie.
Ziplining, jet skiing and even traditional mud crabbing are all activities that will get your blood pumping. At the end of every adventure your smile will be as wide as it can go.
Pamper Yourself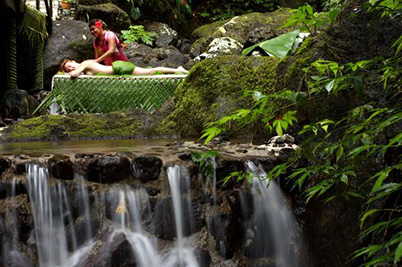 But not every traveler likes to enjoy paradise at 100 miles per hour.
Fortunately, Fiji boasts some of the best world-class spas that will melt away the stress from your grueling home life. Scalp massages, banana leaf body wraps and coconut scrubs performed by highly skilled masseuses provide only half of the tranquility.
Your massage table will likely be set outdoors, surrounded by jungles, trickling creeks, whispering waves and singing birds. The setting alone is enough to fuse you with the serenity surrounding you. A mere half hour in a Fijian spa will have the island utopia seeping into your pores.
Catch a Big One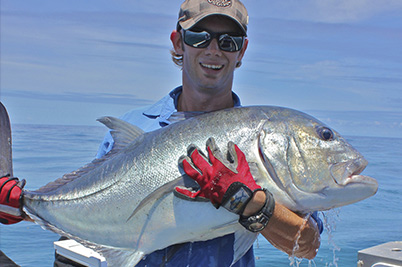 An ever-popular excursion in the South Pacific is sport fishing and Fiji is home to some of the most extraordinary fishing trips on the planet.
Relax on a boat out at sea and prepare for the battle to reel in the monsters of the deep. Wrestling a marlin on the boat and hearing the whizzing of the reel as a Wahoo takes the line at 60 miles per hour are stories you'll tell for decades to come. These mesmerizing waters yield the rarest of catches, including barracuda, sailfish, mahi mahi and yellowfin tuna.
Spend Some Time Alone, Together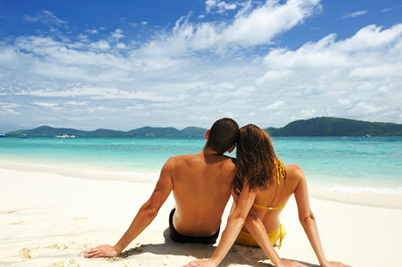 Fiji is sometimes taken better with a glass of merlot rather than with a fishing pole, though.
Romantic excursions will light up any couple's getaway in a glowing passion. Feel like the only two people in the world as you enjoy a picnic on a private beach. Better yet, spend the night on an island belonging solely to the two of you.
Dine on gourmet meals by candlelight as the moon reflects off the water and the overhanging coconut tree palms whisper. The romantic ambience will beckon the two of you to scoot in closer to one another.
Eat Amazing Food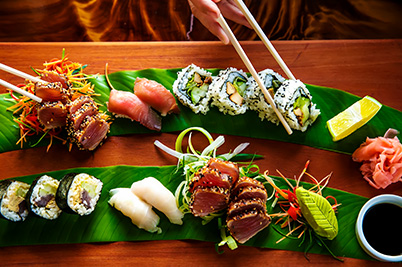 And speaking of gourmet meals, Fiji is home to some of the finest dishes for all you foodies out there.
These lush island rainforests produce the finest ingredients. All of your meals are prepared with fruit freshly plucked from the trees and seafood just pulled from the ocean. Your mouth will salivate for the richness of Fijian cuisine long after returning home. Any tourist will forever be a fruit snob after a visit to these islands.
Learn Something New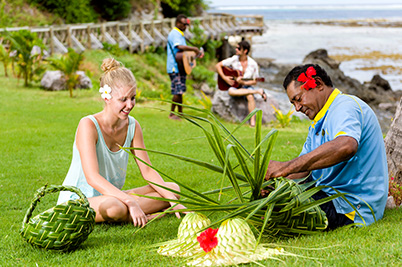 Learning the intricacies of island living can be as memorable as it is educational. Visit a pearl farm where you'll learn how these precious commodities are brought from an irritant to a piece of fine jewelry. Coconut demonstrations will teach you how this versatile tree provides shelter, food, drink and more for the Fijian people. You'll also see what it takes to peel and puncture these stony fruits without modern tools.
Easily the most enjoyable means of educational entertainment is at one of the many Fijian cooking courses throughout the country. Most islands host fun and informative classes (many free of charge). Gourmet chefs will give you a hands-on tutorial on how to bring the rich flavor of the islands back to your hometown kitchen.
With fires as big as the laughs, these classes will be an unforgettable memory you'll enjoy for years to come as you whip up delicious Fijian dishes back home.
Make New Friends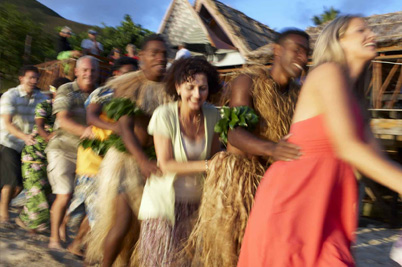 Share exciting and hilarious times with your fellow travelers, as well. Most resorts host nightly activities like trivia competitions, coconut bowling and hermit crab races. Join your fellow tourists as you enjoy Meke dance demonstrations, then get up and bust a move yourself.
Perhaps the best part is the fact that all of these things to do in Fiji exist right outside your front door. You never need to venture far for ways to occupy your time in the most memorable fashions. Once you board the plane to Fiji, there is no doubt that exciting times are on the horizon. They're made exponentially better by the fact that the horizon is a glimmering blue polka-dotted with pristine islands.
Are you ready to start planning your Fiji vacation? Contact us to work with your personal Fiji travel expert. Whatever you want to do in Fiji, we will help make it happen!